The Challenge
Mount Terry Fox is located in Valemount, BC. It is an 18km round trip hike, which reaches approximately 6,500 feet in elevation at the summit. Typically, it takes about 11-12 hours to complete the journey and is meant for experienced hikers with a local guide.
While we cannot gather in Valemount this year, we invite you to download the Movespring app, and find a hike/trail in your province that might replicate the route options offered at Mount Terry Fox. While we know it won't be the exact same, we hope it will be a challenging hike to honour the challenge that Terry faced every day during his Marathon of Hope. The Terry Fox Foundation App will track your movement throughout the day, and will allow you to complete the challenge at your own pace, and how you'd like.
Terry Fox experienced challenges on a daily basis in 1980. Are YOU up for a challenge this summer? Please join us for the 7th annual Mt Terry Fox Trek.
The Terry Fox Foundation is excited to offer everyone the chance to continue to support cancer research through participating in your very own Terry Fox Trek in your home province. This year, you can join our virtual hike in your area. By using The Terry Fox Foundation App, you will see how far you can hike up Mt. Terry Fox. This is a one-day hiking adventure that we hope will resemble the challenging trek up the real Mount Terry Fox in Valemount, B.C.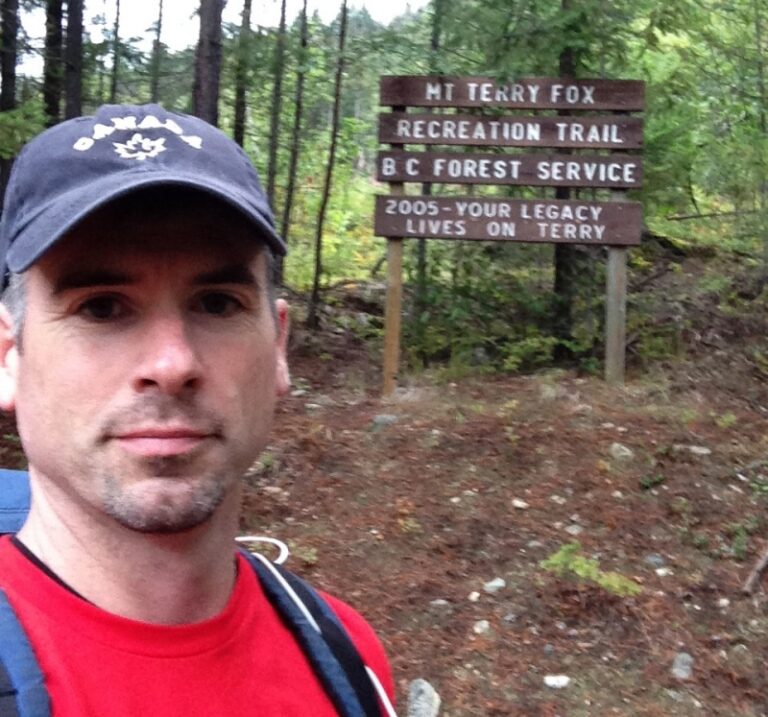 A cancer survivor's Trek
It started as an innocent looking email from the Terry Fox Organization. I had participated in the Terry Fox Run as a kid in school, but also more recently for the last 12 years since going through my own cancer journey. I'd never done a hike to the top of a mountain of this magnitude before. I was intrigued. I soon decided I could do this and started a training plan that expanded upon my usual 10k running, but also included going up and down thousands of stairs. None of this training prepared me for the emotional journey I was about to take up Terry Fox Mountain.