A Dream As Big
As Our Country
Anything's possible if you try.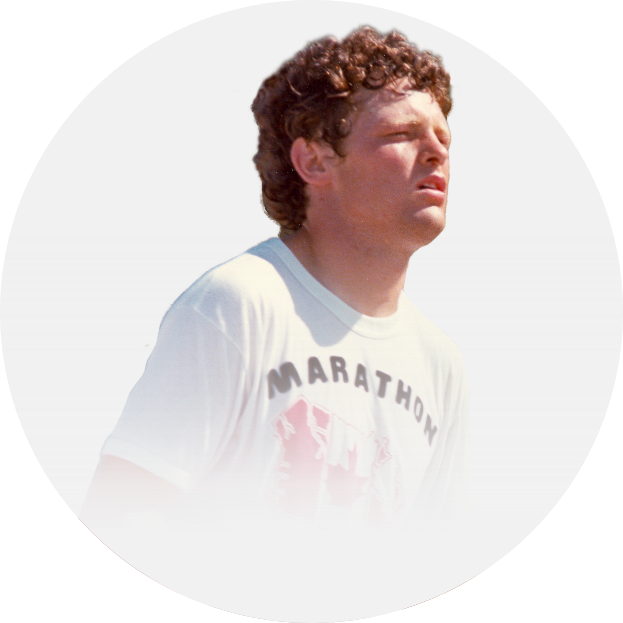 Terry's personal experience and research led him to a simple conclusion – more money was needed for cancer research. And so, in the modest but motivated style that would prove to be his trademark, Terry started training and planning for his cross-Canada run to raise funds for cancer research. He dipped his artificial leg in the Atlantic Ocean on April 12th, 1980 and proceeded to unite Canadians in a way never before, nor since, seen. The only thing that could have stopped Terry from reaching the Pacific Ocean did. Cancer returned in his lungs and he was forced to stop on September 1st, 1980 after having run 5,373 kilometres.
Eighteen-year-old Terry Fox of Port Coquitlam, BC never saw himself as remarkable. Granted, he displayed an unusual determination to achieve the goals he set for himself but his orbit was local – family, school, sports and friends. But Terry's cancer diagnosis of osteogenic sarcoma just above the knee, the subsequent amputation of his leg and experience in the children's cancer wards changed all that. A newly nurtured reservoir of compassion, combined with a fierce determination to bring an end to the suffering cancer causes, set Terry on a path that, quite simply, changed the world.
Terry's Route Across Canada
Zoom in or
Enlarge
to View the full map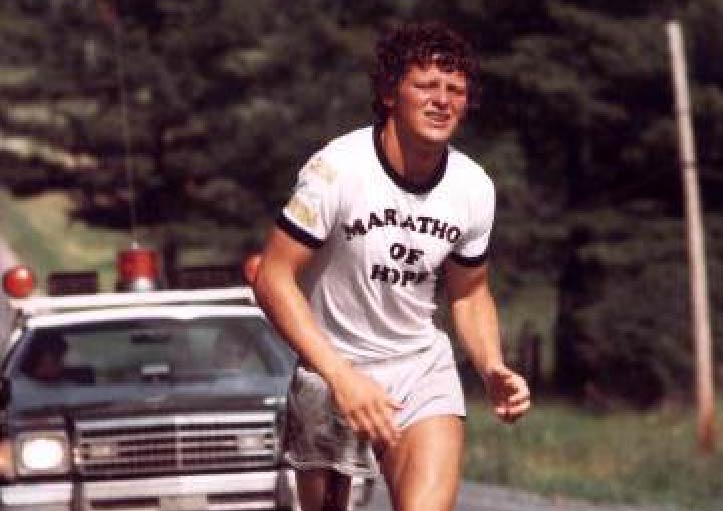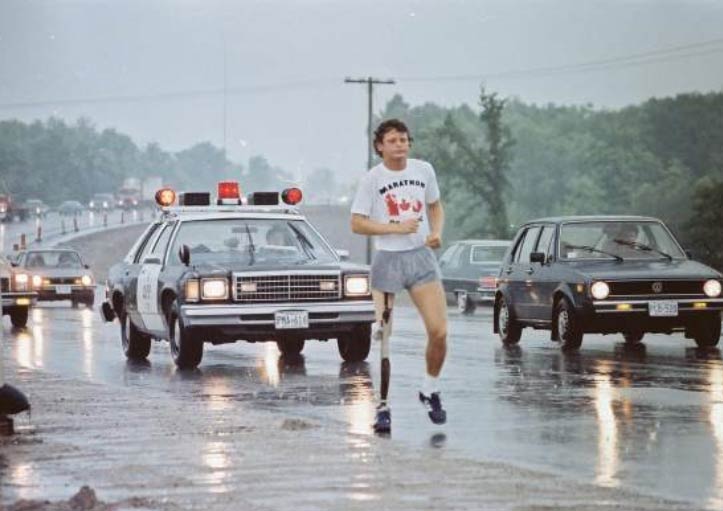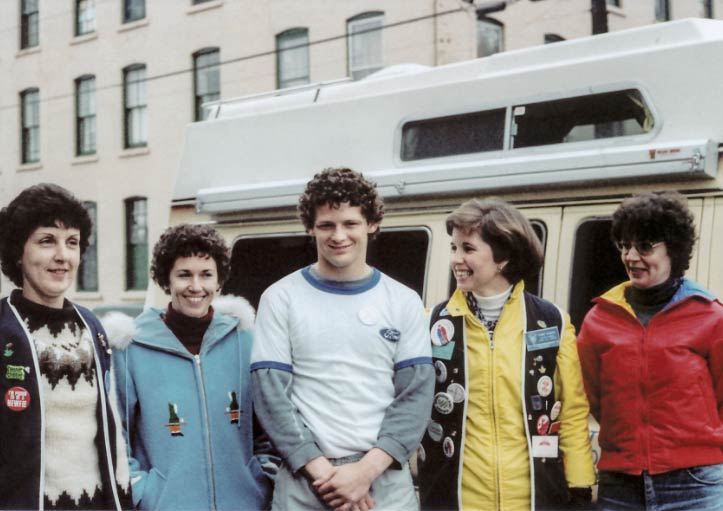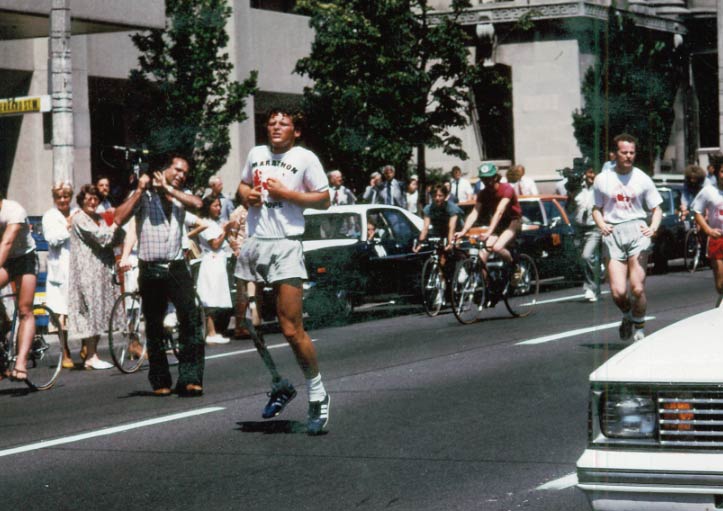 Before his death on June 28, 1981, Terry had achieved his once unimaginable goal of $1 from every Canadian. More importantly, he had set in motion the framework for an event, The Terry Fox Run, that would ignite cancer research in Canada, raising more than $850 million since 1980, and bring hope and health to millions of Canadians.
I want to set an example that will never be forgotten"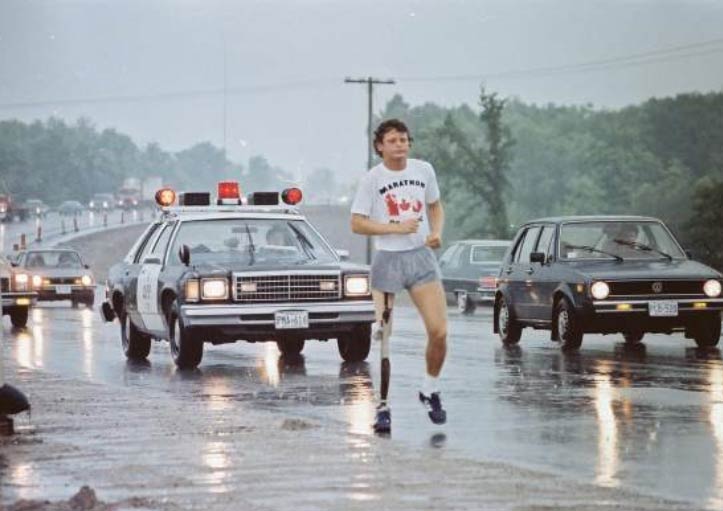 The story was simple but powerful. Terry Fox lost his leg to osteogenic sarcoma at age 18, underwent 16 months of treatment and found he could not ignore the suffering he witnessed in the cancer wards. Terry decided to run across Canada to raise money for cancer research in a Marathon of Hope. He wasn't doing the run to become famous; he wanted to create change and fund a cure for all cancers. Terry ran close to 42 kilometres (26 miles) a day through Newfoundland and Labrador, Prince Edward Island, Nova Scotia, New Brunswick, Quebec and Ontario. He ran through snow, rain, wind, heat, humidity. He stopped in more than 400 towns, schools and cities to talk about why he was running. He started at 4:30am in the morning, and often did not finish his last mile until 7pm at night. Sometimes Terry and Doug, his best friend and driver, would sleep in the van because they could not afford a place to stay. Some days hundreds of people cheered him on; other days he was alone on the road, and no money was raised. But Terry never gave up hope that Canadians would respond to his story, to his effort…and he was right. Terry entered Ontario on June 28th the whole country was cheering him on and donating to cancer research. Canadians saw that Terry's try was unlimited.
On September 1st, after 143 days and 5,373 kilometres (3,339 miles), Terry was forced to stop running outside of Thunder Bay, Ontario. The only thing that could have stopped him did: cancer had appeared in his lungs. Even from Terry's hospital bed, he continued to talk about the importance of donating to cancer research. He asked Canadians to continue to support his Marathon of Hope; he hoped his second diagnosis would help everyone understand that cancer could happen to anyone, even someone who had just raised over $1.7 million for research.
But Terry never gave up hope that Canadians would respond to his story, to his effort…and he was right.
Terry died on June 28, 1981 at the age 22. This bold and courageous Canadian was gone, but his legacy was just beginning. To date, over $850 million has been raised for cancer research in Terry's name through the annual Terry Fox Run, held across Canada and around the world.